Tadej Pogacar & the P.A.R.A.S.I.T.E. Museum of Contemporary Art: The SP Files
6 – 30 April 2017
São Paulo Documents take us to the heart of the problem of the discontinued history of truth. On the basis of the "failed" exhibition prepared for the 1969 São Paulo Biennial by the MIT Centre of Advanced Visual Studies (CAVS) under the leadership of the eclectic figure of György Kepes, artist, art theorist and teacher, we land in the classic scenery of the Cold War, in which the domains of art and politics are constantly cross-contaminated. As the leader of the CAVS, Kepes, the artist who systematised his Bauhaus experience at a young age into a modernist teaching methodology, prepared for the American pavilion at the São Paulo Biennial an exhibition that presented works of art anonymously in the experience of a synergic non-authorial system, akin to nature. The exhibition was largely based on the biomorphic qualities of works and Kepes himself described it gracefully as a "celebration of light, warmth, cold, air, electricity, magnetism – the forces that are so ubiquitous around us that we forget to stand in awe of their beauty". The exhibition in fact landed in an extremely "electrified" context, yet, far from the context of bucolic beauty celebrated by Kepes. The electrified context of the international art community, whose consequence was the boycott of the 1969 São Paulo Biennial, was a result of the radicalisation of the already dire political situation in Brazil, which deepened with the establishment of the repressive military junta in 1969. Protest actions, such as Restany's manifesto Non à la Biennale or the publication of Contrabienal iniciative by the Museo Latinoamericano, made the cracks in the weary and compromised cultural politics of modernism even deeper.
How to think this obvious short circuit? "Error" here becomes a symptom of change in a reality discourse, which announces that we must start speaking the truth of art differently. That the modernist story of autonomous, self-centred art as resistance to the filthy world of (everyday) politics does not withstand the test of reality. In the light of modernism's production conditions and dissemination mechanisms, the thesis about its non-ideological nature turns out to be ideology par excellence; the discourse of modern art as a space of freedom (from politics) collapses under the weight of its instrumentalisation in cultural colonialism, with which the US, using strategies of soft power, complemented their politics of power. Kepes' predicament is precisely the subject of Pogačar's interest: as the promoter of the universalist narrative of modernism, he found himself in a situation in which modernism turned out to be anything but a universal phenomenon. And Kepes, the benevolent believer in the emancipatory mission of art, found himself in conflict with his colleagues who were ready to accept this contamination of the discourse of modernism with political interest and turn it into an advantage, to take political responsibility and act. The international spirit of (modern) art that knows no boundaries came up against its own boundary and thus opened a field of research into the relationship between universalist discourse and colonialism which is important to Pogačar. The non-event of Kepes' exhibition falls within the line of Pogačar's history of discontinuities, which forces us to look for new outlets.
The cartographies of blocked paths, dead ends and short circuits are Tadej Pogačar's characteristic gesture. Instead of systematising some positive knowledge, Pogačar's gesture traces the missing, it explores the error. Instead of offering or indicating solutions, he keeps confronting us with examples of failure, complication and distortion. Why? To Pogačar, the power and emancipatory potential of art is not an act of normalisation striving for a certain kind of normativity, but rather a manoeuvre against such normalisation. Hence, the fascination of his practice with the phenomenon of error: namely, error is not something that could be eliminated by the sheer power of truth rising slowly from the shadow, but rather through the formation of a new mode of "recounting the truth". For this reason, Pogačar's studies of the history of rationality are formed around such disruptions, which reveal how successive transformations of reality discourses keep re-creating their own history. "What used to be a dead end can become a solution." And, in fact, we are witnessing precisely such a reversal: a new generation of artists will assume full responsibility for the contamination of art with politics and redefine the field of their activity on this basis. Hence, I believe that Pogačar's returns to this moment are ultimately an allusion to the present-day context, in which the clinch of neoliberal logic and the paradigm of contemporary art shows that we have reached the end of a mode of speaking the truth of art. It is time for a new one.
Vladimir Vidmar
---
The Second Explosion – the '90s
The Second Explosion – the '90s (2014-2017) is an educational and research project that spans several years. It is a joint effort between the P.A.R.A.S.I.T.E. Institute and the Museum of Modern and Contemporary Art Koroška, Slovenj Gradec. It includes a series of public lectures and two exhibitions at the P74 Gallery (2014, 2015), which were focused on the wider cultural and social context of the 1990s. The project has a twofold nature – its two perspectives of the 'centre' and the 'periphery' are crucial for understanding and showcasing a more complex, comprehensive image.
After the explosion of the Neo-avant-garde in the '60s, primarily heralded in Slovenia by the OHO group, the '90s brought a second explosion of artistic production, which was, in its own way, a continuation of the radical art practices from the '60s and '70s. The exhibitions in Ljubljana showcase a segment of artistic production that we might label as 'art after post-modernism'. The exhibition The Second Explosion – the '90s will feature a first look at the radical practices in Slovenian visual art in the 1990s. It will present works and projects by Jože Barši, Vuk Ćosić, Maja Licul, Marko Peljhan, Alenka Pirman, Tadej Pogačar, Marjetica Potrč, Marija Mojca Pungerčar, Franc Purg, Anja Šmajdek, Nika Špan, Apolonija Šušteršič and Janja Žvegelj. The exhibition will feature concepts, objects, sculptures, installations, video projects, web projects, photos, audio projects, artists' books and newspapers, print and original documentation.
A joint exhibition catalogue will be published, with texts by Božo Repe, Andreja Hribernik, Barbara Sterle Vurnik, Nina Popovič, Polona Poberžnik, Dejan Habicht, Tadej Pogačar, Tjaša Pogačar Podgornik and Vladimir Vidmar. The project was supported by the Ministry of Culture of the Republic of Slovenia, the Municipality of Ljubljana and the Erste Foundation.
---
Tadej Pogacar
A Thought for the Day
Prozori Gallery
The questioning of the institution of the system of art and the subversion of its inner hierarchy on the one hand, and using art as a channel for social change i.e. tool for intervention into the existing socio-economic set of relationships on the other, both serve to represent characteristics of the artistic practice of Tadej Pogačar. This is, in fact, a selection of different artistic strategies, from situationist dérive and détournement and up to the concrete aspects of support for the improvement of life conditions and the equalisation of rights of marginalised groups which, like sexual workers or the homeless, have been stigmatised by not being able to fit into the existing social patterns of usefulness or normative behaviour.
The work conceived for the Prozori Gallery, Thought for the Day, does not have pronounced subjects for which the artist advocates directly, does not include characteristic interdisciplinarity and participativity, and does not emerge in complex variations as is the case with other works, e.g. CODE:RED that problematizes sexual work in the wide spectre of geographically and socially marked manifestations. This work, however – minimalistic in terms of expression and purified in terms of concept, with methodology appropriated from other communication systems, and directed toward the questioning of aspects of culture and positioning of art within it – is deeply rooted in author's artistic ethics and aesthetics.
Specifically, the sentence used has been appropriated from Slovene politician Edvard Kardelj, chief strategist and author of all Yugoslav constitutions, spoken at the Congress of the Communist League in Serbia in 1954. It was supposed to signify the willingness of the new socialist state to turn from the course of Soviet socialism toward own, more liberal model, and appeal more to the West by following Tito's remark of the ingratiating lamb that gets to suck on two mother sheep.
Mimicrically inserted in form of graffiti written on a wall i.e. in one of the newspapers in the reading hall, this sentence directly addresses its readers by confusing them with the content that is marginally nonsensical, as well as with the unclear and extensive timeframe between its emergence and reproduction. The permeation – or, rather, elusion – of sense and nonsense, contemporaneity and obsolescence, topicality and history, and the possibility of multiple, even contrasted interpretation, is coincidental to the contemporary, fragmented cultural field and promotes the long-ago uttered provocation into a topical one.
Kardelj's sentence reads as follows: "Gangster literature and Hollywood films represent the first step toward higher culture." Relocated from history, from class and political context, it is a stake in the game of risqué denotation. As an inscription above the windows of the gallery/library, it suggests that the content of higher culture – undoubtedly represented by library and art – is trivial and commercial, and also morally dubious (gangster). On the other hand, if that is not the case, if the contents in the library and the works in the gallery are not trivial, then a question is posed whether these indeed are places of (higher) culture. The chiasmus arising from this merging is merely a starting point of the potential discussion, as the extent and meaning of Pogačar's intervention are significantly more complex than the asymmetric balance of the rhetorical figure. First of all, the notion of culture is by itself quite complex. It refers more to the different discursive constructions that are being configured under specific dispositions of power, than to a fixedly defined area of human activity. Furthermore, Kardelj's sentence is contradictory within itself. The socialist idea of culture is based on the democratic principle: public funding and the accessibility of the institutions of culture and art. When wishing for higher culture, however, Kardelj speaks of a group of universally valuable products of human spirit, made serious in the works of classical literature and art which, by definition, is rounded off in the elitist autonomous tone of artistic creation. Moreover, it seeks assistance from the paradigmatic forms of popular market culture that befuddled higher culture precisely in those years, and would go on to crosslink it in the following decades, to the extent of the weakening of field and the loss of terms. Also, culture would be dominantly understood as a fragmented field of human activity – from everyday life, upbringing of children, dog walking, education or tram rides, to different practical and discursive processing of the world in which we live. Therefore Kardelj's sentence in Pogačar's interpretation shifts its branch to the broader cultural field and indicates new topoi of culture in which Hollywood films and gangster ethics represent a normative of the desirable cultural image.
Pogačar uses the sentence as a ready-made in a double transformation. In the first variant, he printed it in the newspaper of the artist. From the same medium he also appropriated the title of the work by referring to the usual section in daily newspapers, in which the reader is served a corresponding cursory reflection. In the second variant, he wrote it by hand on the façade, thus giving it the semantics of graffiti. He marks public space, appropriates it, balances between concurrent anonymity and authorship, constative and performative. Let us recall here Austin's theory that would denote Kardelj's statement as a constative. However, it would also immediately distance itself from the representational nature of such statement as there is no speech that is addressed to nobody, as stated by Austin himself, and therefore each constative is an implicit performative, which includes an implicit establishment of relations of power.
The hegemonic culture suggests the existence of consensus, and narrows public space by replacing it with interest zones. In such conditions, the artistic interventions and provocations in situ represent strategies of creation of micro-policies capable of forming the necessary new political spaces.
Irena Bekić
---
Hills and Valleys and Mineral Resources
Tadej Pogačar & P.A.R.A.S.I.T.E. Museum of Contemporary Art
Museum of Modern Art, Ljubljana, Tuesday, 4 November 2014 at 8 pm
4 November 2014 – 18 January 2015
The exhibition Hills and Valleys and Mineral Resources is the first comprehensive overview of the artistic activity of Tadej Pogačar and The P.A.R.A.S.I.T.E. Museum of Contemporary Arts. The exhibition comprises a selection of most important projects created in the last few decades which have significantly marked contemporary artistic production. The exhibition will present texts, objects, artefacts, documents, installations and video works from the second half of the 1970s (the series called No Events Actions) to the public projects and actions of the 1990s – among them, the pioneer project "Kings of the Street" (1994–1995), which first set out a collaboration with the social minority of Ljubljana's homeless people, and the long term collaborative project CODE:RED (1999/2000–present), which researches models of self-organising among marginalised urban minorities, parallel economic practices, etc.
Tadej Pogačar examines indeterminacy and transformation within social systems. He engages in interventionist logic, institutional critique and critical research on social and political issues as well as participatory and collaborative projects.
P.A.R.A.S.I.T.E. Museum of Contemporary Arts is a virtual institution, established in 1993. It has taken a number of forms and roles: from organising activist events, designing collaborative platforms, intervening into the urban structure of cities, to holding street actions, making interventions in museum collections and archives, designing new educational games, documenting parallel economic models and constructing unplanned architecture. The P.A.R.A.S.I.T.E. Museum has evolved its own operational strategy: "New Parasitism" and, since 1993, has published the Journal for Anthropology and New Parasitism.
Tadej Pogačar is also the founder and managing director of the P.A.R.A.S.I.T.E. Institute (established in 1998), a non-profit cultural institution that operates the P74 Gallery and the KAPSULA artist book bookshop/project space. The P74 Gallery is the leading independent space for contemporary art in Ljubljana. Its mission is to foster the exchange and promote innovative and challenging models in contemporary art and culture both locally and internationally. In the last fifteen years its programmes have focused on the support, presentation, study and promotion of contemporary visual art, performance, time-based art, and publishing. Since its founding, P74 has organised numerous discursive research projects and workshops, which serve as the basis of its programme. These include Art in the Public Space, Parallel Economies, Public Phenomena, Ready to Change, Local Cartographies, Reality Log / Environmental Scan and The Renaming Machine.
Pogačar has exhibited widely, most recently at the Visor Gallery, Valencia (2014); Gallery for Contemporary Art in Leipzig (2012), the ZKM – Centre for Art and Media in Karlsruhe (2011–2012), the Vojvodina Museum of Contemporary Art in Novi Sad (2011), and the Museum of Contemporary Art Metelkova in Ljubljana (2011), as well as at biennials in São Paulo, Venice, Istanbul, Prague and Tirana and at Manifesta 1 in Rotterdam. He has also had exhibitions at the MUMOK in Vienna (2009), the San Francisco Art Institute (2007), the NGBK in Berlin (2007), the Stedelijk Museum (2004), the Central House of Artists in Moscow and the Museo de Arte Carillo Gil in Mexico City.
He is the recipient of many awards, grants and residencies, including the György Kepes research fellow at ACT at MIT (2012), the Jakopič Prize, Slovenia's main national award for visual art (2009), the Shrinking Cities grant (Leipzig, 2004), the Franklin Furnace Grant for Performance Art (New York, 2001), the AIR_port residential programme Forum Stadtpark in Graz (2003) and an Austrian Cultural Forum residency in London (2003).
This retrospective was organised by the Museum of Modern Art, Ljubljana in collaboration with P74 Center and Gallery and the Museum of Contemporary Arts Zagreb. The curator of the exhibition is Igor Španjol. Accompanying the exhibition, an extensive exhibition catalogue will be published, edited by Igor Španjol, providing in-depth documentation of the last 25 years of Tadej Pogačar's artistic activity. It includes essays by Cristina Freire, Suzana Milevska, Miško Šuvaković, Vladimir Vidmar and Igor Zabel. Project was kindly supported by Erste Foundation.
A modified version of the exhibition will travel to the Museum of Contemporary Art Zagreb (December 1 2015 – February 1 2016).
---
Ed Ruscha, Books & Co.
Museum Brandhorst, Munich
6 June – 22 September 2013
Although Ruscha's books cannot be attributed to any conventional genre such as documentation, reportage or art book, the response to them was quite extraordinary. The artist advanced to a kind of leading figure, especially in connection with 'appropriation art' in which other works are cited. This is reflected in the plethora of books. These range from satirising imitations and the ironic continuation of a particular topic, to copies of typography and design. Ruscha's indifference and demonstrative neutrality with regard to the selection of subjects has, however, occasionally been replaced by demonstrations of political awareness and commitment by a younger generation of artists. This still leaves the question unanswered as to what motivated this lasting reception to Ruscha's epochal books. One of the extensive publications that accompanies the exhibition attempts to provide an answer.
---
Tadej Pogacar & P.A.R.A.S.I.T.E. Museum of Contemporary Art
THE BIG ARCHIVE
6 – 19 May 2013
Opening: Monday 6 May, 6 pm
PM Gallery | Prsten Gallery
Trg žrtava fašizma bb, 10000 Zagreb
Croatia
Retrospective exhibition
Hours: Tuesday – Friday 11 am – 7 pm;
Saturday–Sunday 10 am – 2 pm
Monday closed.
www.hdlu.hr
"Systems work because they do not work."
Michel Serres
The Big Archive is a retrospective exhibition covering two decades of the creation and operation of Tadej Pogačar and P.A.R.A.S.I.T.E. Museum of Contemporary Arts. It represents the largest and most comprehensive presentation of his work ever seen in Croatia. The exhibition includes video works, objects, photography, works on paper, artist books and installations.
Pogačar's parasitism is a subtle deconstruction of the horizont of the everyday and a ruthless challenging of the social systems used to establish the center, dominance, and power in everyday life, art, and society. In his transdisciplinary research based projects, among other things, he references the theory of French intellectual and philosopher Michel Serres who developed the concept of the parasite, of the so-called third person as a personification of the third space. This concept carries a revised consideration about the basic categories in social sciences. According to Serres, humans are universal parasites who feed off of nature and other people.

Tadej Pogačar engages in interventionist logic, institutional critique, and critical research on social and political issues as well as participatory and collaborative projects. In his projects he deals with parallel economies, self-organisation, urban minorities, do-it-yourself architecture, the transformation of public space, control, etc. Many of his projects are long-term, like School's Out (2007, Kings of the Street, Street Economy Archive, P.A.R.A.S.I.T.E. Public Sculpture) and include teamwork and active participation. One of the most complex projects is CODE-RED (1999–present), which employs various forms of public action and activism as well as subversions in urban, media, and virtual environments.
Tadej Pogačar has exhibited widely, most recently at the Museum of Contemporary Art Metelkova (MSUM), Ljubljana; the Gallery for Contemporary Art, Leipzig (2012); the ZKM – Centre for Art and Media, Karlsruhe (2011–2012); the Vojvodina Museum of Contemporary Art, Novi Sad (2011); as well as at Manifesta 1 in Rotterdam and at biennials in São Paulo, Venice, Istanbul, Prague, and Tirana. He has also had exhibitions at the MUMOK, Vienna (2009); the San Francisco Art Institute (2007); the NGBK, Berlin (2007); the Stedelijk Museum (2004); the Central House of Artists, Moscow; and the Museo de Arte Carillo Gil, Mexico City.
Pogačar is also the founding and managing director of the P.A.R.A.S.I.T.E. Institute, a non-profit cultural institution that operates the P74 Centre and Gallery and the KAPSULA bookshop and project space in Ljubljana.
He is the recipient of many awards, grants, and residencies, including György Kepes Fellowship Grant for Advanced Studies and Transdisciplinary Research in Art, Culture and Technology (MIT, Boston, 2012–2013), the TREND Award for visual art (Ljubljana, 2007), the Jakopič Prize, Slovenia's main national award for visual art (2009), the Shrinking Cities grant (Leipzig, 2004), the Franklin Furnace Grant for Performance Art (New York, 2001), the AIR_port residential program Forum Stadtpark in Graz (2003), and an Austrian Cultural Forum residency in London (2003).
The exhibition has been prepared in cooperation with P.A.R.A.S.I.T.E. Institute and was supported by funding from the Ministry of Culture of the Republic of Slovenia and the Municipality of Ljubljana, Department for Culture.
---
ASYMMETRIC EUROPE: POTENTIALITY, COMPLEXITY, AND COMPLICITY
The exhibition Asymmetric Europe is part of a complex project. Scenarios about Europe was done at the Museum of Contemporary Art in Leipzig in 2011 and 2012. The Novi Sad exhibition within the frame of Europe n is the realisation of a concept by one of the curators, Dr Miško Šuvaković, directly or indirectly related to the scenarios. The other curators have realised or will realise exhibitions in their own local environments (Minsk, Łodź, London, Oslo, Beijing, San Sebastian, etc.) In the context of the project Scenarios about Europe the project curator addressed issues of contemporary art on the margins of the great 'discourses' and 'spectacularisations' of a contemporary European identity. He wanted to show 'what is now' part of the European identity on the border lines of Southeast Europe and former Eastern Europe vis-a-vis other potential, real and fictional Europes. In this project, contemporary European politics is posed as a reflexive discourse on the 'sensory regimes' of the universal European identity as opposed to hybrid European identities. It treats the relationship between symmetric and asymmetric cultural/social identities in contemporary Europe, by means of aesthetic and artistic media and post-media representations. This would be the basic stance that the exhibition conveys and that the Novi Sad project will test under the real conditions and circumstances of contemporary Vojvodina and Serbia.
Europe n is a transnational project of the Excellence Initiative of the Goethe-Institut. It is a collaboration of the Goethe-Institut in Munich and the Regional Goethe-Institutes in Central and East Europe, South-East Europe, North-West and South-West Europe and East Europe/Central Asia, in Belgrade, Brussels, Istanbul, Warsaw, London, Minsk, Vilnius, Oslo, Beijing and Madrid with institutions in and outside the European Union. Europe n is coordinated by Sabine Hentzsch, Goethe-Institut in London. Artistic Director is Barbara Steiner. The external partners are: Co-Organisers: Curating Contemporary Art Programme / Royal College of Art, London; Muzeum Sztuki, Łodź; Henie Onstad Kunstsenter, Hovikodden / Oslo; Associated Partners: Contemporary Art Study Centre / European Humanities University, Vilnius; Novaja Europa Magazine, Minsk; Galerie Y, Minsk; SALT, Istanbul; Muzej savremene umetnosti Vojvodine, Novi Sad; Sint-Lukasgalerie, Brussels; Taipei Contemporary Art Centre, Taipei; Vitamin Creative Space, Beijing / Guangzhou; San Telmo Museoa, Office for European Capital of Culture 2016, both Donostia-San Sebastian.
---
PARQUE INDUSTRIAL
Galeria Luisa Strina, Sao Paulo
3 September – 3 November 2012
Curated by: Julieta González
The exhibition takes its name and thematic approach from Parque Industrial Patricio Galvão's 1933 proletarian novel, but is equally constucted as a "theater of objects" referencing Georges Perec's structural use of the object in his novel Les Choses, une histoire des annees soixante (1965), and Jean-Luc Godard and Jan Pierre Gorin's recourse to Brechtian strategies in the film Tout Va Bien (1972). The exhibition addresses examines how contemporary artists address the labour relations inscribed in the commodity, the intricate relation between production and consumption that are embodded in it, and the "commodity status" of art.
Borrowing Brechtian stage strategies, such as defamiliarization, repetition and a recourse to the uncanny, the exhibition is structured like a play in five acts; each one, except the first, takes the title of some of the chapters in Galvão's novel, and functions as an autonomous smaller exhibition. These sections address a range of subjects: commodification, production, alienation and de-alienation, consumption, and education.
The exhibition includes works by the following artists:
Yael Bartana, Thomas Bayrle, Alexandre da Cunha, Edgard de Souza, Cao Fei, Silvie Fleury, Carlos Garaicoa, Liam Gillick, Terence Gower, Magdalena Jitrik, Joaquim Jordà, Jac Leirner, Renata Lucas, Marepe, Allan McCollum, Josephine Meckseper, Cildo Meireles, Beatriz Santiago Muñoz, Antoni Muntadas, Felipe Mujica, Nicolás París, Mai-Thu Perret, Tadej Pogacar, Pedro Reyes, Andreas Siekmann and Alice Creischer, Gabriel Sierra, Mladen Stilinovic and The Bruce High Quality Foundation.
---
DAILY LIFE AS PUBLIC PRACTICE IN THE FIELD OF MULTIPLICITY
The Productions and Interventions of Tadej Pogačar at the End of the First Decade of the New Millennium.
The Museum of Contemporary Art Vojvodina, Novi Sad
June 15–July 15, 2011
Curated by: Miško Šuvaković
We are pleased to announce the upcoming retrospective exhibition DAILY LIFE AS PUBLIC PRACTICE IN THE FIELD OF MULTIPLICITY: The Productions and Interventions of Tadej Pogačar at the end of the First Decade of the New Millennium, organized by the Vojvodina Museum of Contemporary Art in Novi Sad and curated by Miško Šuvaković; the exhibition will be on view in Novi Sad, Serbia, from June 15 to July 15, 2011.
Tadej Pogačar is one of the most important artists and curators on the Slovenian art scene of past twenty years. His artistic and curatorial production developed as an open and socially critical art based on appropriational and parasitical strategies and employing the tactics and strategies of the contemporary curator-activist.
He has developed numerous projects and a critical body of research into contemporary forms of life. The main aim of the present exhibition is to construct a "working retrospective" of Pogačar's art practice by presenting his most important projects of past two decades through documents, artefacts, and new realizations. The exhibition will present around twenty projects created between 1990 and 2011, including photography, videos, installations, drawings, objects, public projects, and site-specific interventions.
Among other, the exhibition will present the long-term participatory project CODE:RED, which researches and discusses informal economic models, self-organization models of sex workers, and human trafficking, as well as the project School's Out, which problematizes models of domination and control in the educational institutions of socialism and re-examines relationships between documentation, archives and history, various archives like Street Economy Archive etc.
For the exhibition at the Museum of Contemporary Art in Novi Sad, Pogačar will be working with a group of young curators who are completing the World of Art training programme for curators organized by the SCCA Centre for Contemporary Arts – Ljubljana.
The artist Tadej Pogačar (b. 1960) lives in Ljubljana, Slovenia. In 1984, he graduated with a degree in ethnology and the history of art from the University of Ljubljana. In 1988, he received a degree in painting from the Academy of Fine Arts, University of Ljubljana, where he also completed his postgraduate studies in 1990. He is the founder and director of the P.A.R.A.S.I.T.E. Museum of Contemporary Art (www.parasite-pogacar.si), a virtual organization and a critical model he established in 1993.
Pogačar has exhibited widely, including at the 10th Istanbul Biennial, the San Francisco Art Institute, the 49th São Paulo Biennial, NGBK in Berlin, the 3rd Tirana Biennial, ZKM Karlsruhe, the Stedelijk Museum, Sparwasser HQ in Berlin, Oyo Atomico in Madrid, the Museo de Arte Carillo Gil in Mexico City, and the Central House of Artists in Moscow. He received a Franklin Furnace grant in 2001 and a Shrinking Cities grant in 2004.
To accompany the exhibition, the Museum of Contemporary Art Vojvodina is publishing a 100-page, fully illustrated bilingual (Serbian/English) catalogue with texts by Miško Šuvaković and Ana Vilenica.
The exhibition is organized in collaboration with the Zavod P.A.R.A.S.I.T.E. and the SCCA Centre for Contemporary Arts – Ljubljana.
---
CODE:RED – The Book
Presentation at the International Centre of Graphic Arts,
Ljubljana, Slovenia, 8 April 2011, at 6 p.m.
We are pleased to announce the publication of the book CODE:RED. The book includes theoretical essays and previously unpublished documentary material relating to the long-term collaborative art project CODE:RED, which was initiated in 1999/2000 by the P.A.R.A.S.I.T.E.Museum of Contemporary Art. At the same time, the book's publication also serves as an introduction to the retrospective exhibition project Crisis or Expansion of Public/Private Forms of Life: Tadej Pogačar 1990–2011, organized by the Vojvodina Museum of Contemporary Art in Novi Sad, Serbia, which will be on view in Novi Sad from 15 June to 15 July 2011.
The book CODE:RED includes a series of theoretical essays from the fields of gender studies and feminism, the history of the struggle of sex workers, their political actions, their fight for human and social rights, their cultural work, their inclusion in labor syndicates, and so on. The publication pays tribute to the extraordinary individuals who through their courage and boldness have managed to escape the vicious circle of ignorance and stigmatization. The book also presents essential information about the CODE:RED project – its beginnings, structure, strategies, actions, networks, and collaborations. Also included are visual documents from projects in São Paulo, Venice, Madrid, and New York, as well as three issues of the Sex Worker newspaper.
The authors of the essays are Ana Lopes, Pia Covre, Gabriela Silva Leite, Suzana Milevska, Maria do Mar Castro Varela and Nikita Dhawan, Mamen Briz, Mojca Pajnik, and Melissa Ditmore. The book was edited by Tadej Pogačar, with language editing by Rawley Grau and Jana Wilcoxen and graphic design by Ajdin Bašić. The book has been published in English.
The publication of CODE:RED was made possible by the financial support of the Erste Foundation, the Ministry of Culture of the Republic of Slovenia, and the Department of Culture of the Municipality of Ljubljana. The publisher of the book is the P.A.R.A.S.I.T.E. Institute.
CODE:RED is available for purchase at KAPSULA bookshop of artist books (in the Ajdovščina underpass in Ljubljana), Gallery P74, and other specialized bookshops. The price is 30.00 EUR. The book may also be ordered by email at p74info@volja.net.
CODE:RED, 236 pages, 17.5 cm x 24.5 cm, semi-hard binding, 240 illus., English edition, ISBN 978-961-6807-03-6, P.A.R.A.S.I.T.E. Institute.
Collector's edition: 100 copies, leather cover, signed and numbered.
---
An Idea for Living - Realism and Reality in Contemporary Slovenian Art
U3 - 6th Triennial
Moderna galerija / Museum of Modern Art, Ljubljana
15 June - 15 September 2010
P.A.R.A.S.I.T.E. Public Sculpture (1999-2009)
At particular times of the year on the streets of various city centers, certain mound-like forms appear overnight and then after only a few days are gone. After documenting, analyzing and investigating this phenomenon more carefully, we have come to the following conclusions:
PPS originates spontaneously in urban environments — on streets, in courtyards, next to apartment towers, by garden fences, in apartment-block communities and neighborhoods.
PPS is a temporary form. It changes constantly through unloading, shifting, adding, removing, and so on.
PPS is a clear example of "détournement" (all elements, taken from whatsoever, can become the object of new realities).
PPS originates as the result of the exchange and gift economies of the local population and is linked to the micro-economy and micro-ecology of relationships.
PPS directly reflects economic wealth/poverty, personal taste, and creativity. A chain of offering and exchange is created before our very eyes.
---
Gender Check
Femininity and Masculinity in the Art of Eastern Europe

Zacheta National Gallery of Art, Warsaw
20 March - 13 June 2010

Gender Check is the first comprehensive exhibition featuring art from Eastern Europe since the 1960s based on the theme of gender roles. 20 years after the fall of the Berlin Wall, the curator Bojana Pejic, along with a team of experts from 24 different countries, has put together a selection of over 400 works including paintings, sculpture, installations, photography, posters, films and videos. With over 200 artists, the exhibition paints an exceptionally diverse picture of a chapter in art history that until recently had been largely unknown and that could also act as an important addition to contemporary gender discourse.
---
This is not America
15 Years of P.A.R.A.S.I.T.E. Museum of Contemporary Arts
10 – 31 January 2009
OPENING & CELEBRATION
Friday, 9 January 2009 at 8 p.m.
"This is not America – 15 Years of P.A.R.A.S.I.T.E. Museum of Contemporary Art"
P74 Center and Gallery, Prušnikova 74, 1000 Ljubljana, Slovenia.
Monday, 12 January 2009 at 7 p.m.
Charles Esche, "About the Museum"
Discussion with English curator and writer, director of the Van Abbemuseum, Eidhoven (NL).

At the end of 1993, the institution Museum of Contemporary Arts – which had been founded in 1990 by artist Tadej Pogačar – officially adopted the resolution to change its name to P.A.R.A.S.I.T.E. Museum of Contemporary Arts (PMCA). PMCA functions as a virtual institution which "exists without its own space and employees, but rather merely settles into territories, locations and networks and feeds off the juices of institutions" and operates according to the principles of "new parasitism".
Reflecting on this, Miško Šuvaković has written:
"The artistic and political approach of Tadej Pogačar converts biopolitics or eco-politics into the theory and praxis of artistic or cultural-political parasitism. His political parasitism is a new "para-ecological strategy" inside of art which operates directly with textures and tissues of the historical and geographical culture of society. Pogačar's political parasitism is neither entirely critical nor deceptive, but rather, transgressive."
In fifteen years of operation, P.A.R.A.S.I.T.E. Museum of Contemporary Arts has created, organised and coordinated numerous events, actions, public interventions, performances, exhibitions, projections, roundtables, etc. It has been a "guest" of museum collections, galleries, schools, universities, personal homes, public spaces, streets.
Critical interventions in museum collections during the first years of operation problematised the accumulation of science and knowledge: How is science/knowledge created, structured and arranged? Who claims it, expands it and puts it to use? How is "truth" structured? The second related question is a question of social visibility: what is visible and what is invisible in society, what do we understand as a "natural" condition of society and what is "unnatural"? The installation for the fifteenth anniversary returns to these questions, as well as exposes the theme of historical narration and its methods, such as reconstruction, repetition and appropriation.
PMCA has cooperated on a number of international manifestations on the Venice Biennale (2001), Tirana Biennale (2005), International Biennale of Contemporary Art Prague (2005), São Paulo Art Biennial (2006), International Istanbul Biennial (2007), and the Biennial of the Canary Islands (forthcoming in 2009). PMCA has also intervened in a number of museum collections and museum: collection of Moderna Galerija, Ljubljana; Tretjak's African Collection at Gallery of Fine Arts, Slovenj Gradec; the collection of the National Museum of Contemporary History, Ljubljana; Museum Boijmans Van Beuningen, Rotterdam; Naturmeuseum, Rotterdam; Mucsarnok, Budapest; Moderna Museet, Stockholm; Max Liebermann Haus, Berlin.
PMCA prepared "Kings of the Street" (1995), one of the first artistic street actions with Ljubljana's homeless people and in 2001 publicly declared the on-going collaborative transdisciplinary project CODE:RED (1999/2000-2010).
P.A.R.A.S.I.T.E. Museum of Contemporaray Art has published six thematic editions of the review "Journal for Anthropology and New Parasitism", two editions of the thematic newspaper "Sex Worker2 and the book "The Best is Yet to Come".
---
Another City, Another Life

Zacheta National Gallery of Art and public spaces of Warsaw
9 April – 31 July 2008

The Another City, Another Life project deals with the transformation of Warsaw's urban and public space in the context of similar processes taking place in other post-socialist cities. It confronts the uncompleted processes of socialist modernisation, as well as present-day globalisation- and free market-driven changes, community utopias, and personal images or memories of another, better life. The post-socialist space is characterised by a multiplicity of logics many of which are seemingly incompatible, e.g. the politics of symbolic commemoration, representation of power, closely defined images of national, religious or cultural identity, functions parallel to the cities' opening to global capital flows and an economy based on knowledge, entertainment and culture. The latter factors are rapidly changing the models of urban production, destabilising extant social hierarchies. The processes of neo-liberal slackening are accompanied by the institution of new control regimes, new borders and exclusions. One can clearly see the weakness of the urban public space, construed as the democratic agora, the place where the interests of different social groups are negotiated or even where antagonisms can clash, relative to the power of state-apparatus control and investor influence.
---
10. Istanbul Biennial

Tadej Pogačar & P.A.R.A.S.I.T.E. Museum of Contemporary Art with DAVIDA

"CODE:RED BRASIL, DASPU", 2006 - 2007

The Daspu was created in 2005 to strengthen - with visibility and resources - the struggle of the prostitutes against prejudice. With product lines in struggle, pleasure, leisure/carnival and activism, Daspu has mobilized society around the theme of a fashion for life.

Davida is a civil society organization, founded in Rio de Janeiro in 1992, to promote the citizenship inclusion of prostitutes. The main tools of the Davida group are actions in the areas of education, health, documentation, communication and culture, at both the local and national levels. Mission of the Davida is to to create opportunities for the strengthening of citizenship for prostitutes, by organizing prostitutes as workers, defending and promoting their rights, mobilizing them and promoting social control.

CODE:RED (1999/2000 - 2007) is a collaborative project that researches models of informal economy, activism, and self-organization of urban minorities in the context of sex work and human trafficking. The project encompasses various forms of collaboration with experts, scholars, and activist groups, from research, and self-help to public actions, exhibitions, etc. In these actions Tadej Pogaar and the P.A.R.A.S.I.T.E. Museum of Contemporary Art follows the principle of dialog and teamwork.
---
Public Services
with Temporary Services, Paula Roush, Marjetica Potr, Anja Planiek and Tadej Pogaar

The exhibition Public Services brings together projects by artists and architects whose works and research deal with problems involving the service sector in contemporary urban environments. These projects represent a critical consideration of alternative models of public services, which, ideally, are founded on the principles of openness, access, equality, participation, mobility, adaptability, and transformativity. When artists today think about structures and forms in the contemporary city, they think above all about the importance of open communication within urban structures. By occupying the space that lies between the many different users of cities, corporate capital (and its interests), and the urban structure, they draw attention to processes of degradation and appropriation, borders between public and private, the de-industrialization and agrarianization of cities, and so on, while developing new public-service models based on participation, exchange, and solidarity.

The conceptual basis for the model Working Unit Z01 grew out of a collaboration with the architect Anja Planiek, historian Petra Hoblaj, and the International Organisation for Migrations (IOM). This new model of mobile architecture is designed to serve as a basic module that can be adjusted to meet the needs of the independent work of sex workers. Easily assembled, the camper Working Unite ZO1 provides a simple form of transport that can be easily connected to existing energy sources and sanitation systems; alternatively it may be adapted for self-provision system. The Working Unit Z01 module was inspired by numerous utopian and real urbanistic and architectural models from the late 1960s, for example, Peter Cook's concept of the Plug-In City and the diametric concept of New Babylon, which were conceived as collective social projects and which predominantly operated as a specific projective frame for creating new situations.
---
From the Street
18 April - 12 May 2006

From 18 April to 12 May P74 Center and Gallery, and kuc Gallery will hold an exhibition entitled TADEJ POGAAR & P.A.R.A.S.I.T.E. Museum of Contemporary Art: From the Street, which features a comprehensive overview of public art projects, a spatial construction, an archival presentation of street economies, and a new board game. The common denominator of the installations is social interaction, exchange in public space, and open collaboration based on dialogue and teamwork. His public actions, Autonomous Territory I(2002) and Autonomous Territory II (2003), executed in Graz, Austria, and Mexico City, are participatory projects and interventions into public space. They represent a practical investigation in the area of low-tech and non-planned architecture closely connected to everyday life and its transformation. These processes open up new possibilities for redefining institutional participation in the creation of urban space and for producing alternative policies for the use of public space. In 2004, Pogaar participated in the PR 04 festival of contemporary art in Puerto Rico. Together with U.S. artists Deidre Hoguet and Peter Walsh he created an alternative Olympic torch relay to carry the flame for Equipo Terrestre (Team Earth). Instead of running for the "homeland," each torchbearer was invited to choose their own reason for participating. MonApoly (2002-2003) is a new cartography of global sex work and global trade with humans that takes the form of a board game. Instead of accumulating capital, it explains the geopolitics of sex work during the period of global capitalism and the new economy. As they play, participants obtain new information about global sex work, activist organizations, crime gangs that organize trafficking in humans, etc.

Tadej Pogaar's project From the Street is part of on-going multidisciplinary collaborative Street Economies project initiated by the Miroslav Kraljevi Gallery in Zagreb, and P74 Center and Gallery in Ljubljana. It explores the grey economy phenomenon, with special emphasis on the area of South-Eastern Europe and the Balkans.
---
Interrupted Histories

The exhibition Interrupted Histories does more than simply present as separate entities the art projects of the twenty-seven artists and groups invited to participate; it also offers these works as instruments for new processes in historicizing art. It is this newly acquired function, demonstrated by the works on view, that allows us to speak of a new relationship between art and its history. We see this new function of art in the deliberate and systematic way it involves itself in searching for answers to the urgent questions that face spaces outside the canonized history, spaces we could call spaces of interrupted histories. And while the present exhibition focuses primarily on the eastern half of Europe and, to some degree, on the Middle East, one might easily extend its concerns to the whole of the non-Western world - a world that, for political and economic reasons, has not been able to integrate fully the processes of modernity, among which processes we can certainly include the modern system of creating histories - historicization.

Artists today find themselves in a situation where, on the one hand, they are still to a large degree left to do their own historicizing while, on the other hand, the newly interested West has already started to include them in its museum collections - where they find themselves estranged from their own original context. The exhibition Interrupted Histories asks, on the one hand, what are the implications of the absence of systematized historicization in spaces outside the Western world or on its margins, and, on the other hand, what sort of methods are needed to accelerate the processes of such historicization. The exhibition Interrupted Histories presents itself as a kind of tool for creating history. The participating artists act in their works as archivists of their own and other artists' projects or of various phenomena in the national history, as curators who research their own historical context and establish a comparable framework for various big and little histories, as historians, anthropologists, ethnologists, who record current and pertinent phenomena in the interaction between tradition and modernity as well as rapid change in the local landscape.
---
Treuhand Puzzle, 2005

As people leave the east, foreign investors are beginning to take interest, betting on a gradual recovery of rental markets in population centers like Leipzig, Dresden and Berlin. Three U.S. investor groups - the New York-based Cerberus Group, Lone Star Funds of Dallas and a joint venture that includes Soros Real Estate Investors, linked to the billionaire George Soros - have each filed competing bids to buy 65,000 city-owned apartments in Berlin. "We look at Berlin more as a long-term play," said Bruno Scherrer, the London-based partner of Lone Star Funds in charge of European investment.

The New York Times


The basic social process that has been unfolding in Eastern Europe is one of privatization. This concerns not only a political rupture but, primarily, an economic one, in which there is no longer any valid social contract. The task of Treuhandanstalt (or Treuhand) was to transform the formerly socialist East German economy into a "replica" of the West German model. It was originally established by the government of the German Democratic Republic to act as the nation's privatization agency before unification took place. In 1990, the department was handed over to the West German government and officials from the Federal Republic were installed at Treuhand in all executive positions. The formation of a "puzzle" is an open organizational chart that represents a group search for the hierarchies and informations between involved companies, banks, political parties, the economic and political elite etc.
The big green shape represent a territory of former East Germany. Over this field there is a diagram spread giving an implication about possible connections and relations. The diagram, formed as a system of light blue line structures has more connected center spots that indicates existence of several related power centers that collaborate closelly.
Circles in different colours stands: pink for bussines men, white for companies, light green for politicians, dark green for liquidators and consultants, purple for banks.
This is a participatory "puzzle," and museum visitors are encouraged to participate in playing and shaping the relations and connections among the various protagonists of politics and economy. Another part of the Treuhand Puzzle installation is an audio archive. Archive brings numerous parts of interviews with residents of former DDR and West Germany cities discussing present reality, transition, urban development and new economical perspectives. Interviews were taped in winter and autumn 2005.
---
TIRANA BIENNIAL 3: SWEET TABOOS / (EPISODE 5)

September - November 2005
CODE:RED Tirana

As part of the ongoing collaborative project CODE:RED, which examines and researches models of the informal economy, the self-organization of marginal groups, global sex work, and human trafficking, Tadej Pogaar is preparing a new project, CODE:RED Tirana, at the Biennial of Contemporary Art in Tirana in collaboration with the non-governmental organization AAGW. Most of the Albanian women and girls who become victims of human trafficking are sent to Italy and Greece, though some end up in England, Germany, Belgium, and Norway. The average age of those living in the main shelter for trafficked women in Tirana is seventeen; the youngest girls are fourteen. More than 85% of the trafficked girls had previously been unemployed and were kept at home. The women and girls coming from rural areas account for a large number in comparison with those coming from urban areas. A number of the girls were actually kidnapped, while some were even sold by their own families for money. Many of the girls have nowhere else to go: due to the shame associated with prostitution, many fathers will not accept their daughters back into the family.

AAGW, a non-profit organization founded by former victims of human trafficking, seeks to provide support for trafficked girls and women. Official estimates tell of more than 6,000 Albanian girls and women who are, or have been in the past, victims of illegal trade in humans and who were forced into prostitution. AAGW supports a number of projects to aid shelter residents, including vocational training and job placement, as well as the production of artistic handicrafts and fundraising activities. In Albania, trafficking in humans was not even illegal before 2001, and to date, only a handful of traffickers have been convicted, receiving sentences of just a few months in jail.
---
Curating Degree Zero Archive
Sparwasser HQ, Offensive fr zeitgensische Kunst und Kommunikation
An Archive, Touring Exhibition and Web-Resource exploring the field of Critical Curating
7. September - 3. October 2005

Torstrasse 161, 10115 Berlin,
Open hours: Wed-Fri 4-7pm, Sat 2-6pm
or by appointment: text (or call) 0179 6705859

Concept: Dorothee Richter and Barnaby Drabble
Re-interpreted by Lise Nellemann for Sparwasser HQ Berlin

The Archive is part of the ongoing project Curating Degree Zero, co-founded by curators Dorothee Richter and Barnaby Drabble in 1998 and set out to present and discuss curatorial ideas and experiments. Curating Degree Zero Archive is a touring exhibition, which presents critical positions in the field of curating. It contains material (catalogues, articles, videos, CD's, images and web sites) in relation to the practice of over 80 curators, artist-curators, new media curators and curatorial collaborations. Since 2003 it has toured to 9 different European cities and will be in Berlin in September 2005. The Archive expands as it tours, docking onto the networks of hosting venues and adapting to those areas of critical practice particular to each new context. In such a way the choice deliberately avoids being seen as a survey driven by the tastes of the organisers. Instead the development of the list of participating curators is based on the logic of networks, friendships and circles of shared interest and discussion. Likewise the concept of 'critical' curating is not a unified one. It is subject to historical change, just as the discursive formation of the visual arts is subject to constant transformation.

The web-site www.curatingdegreezero.org is an interface both for exhibition visitors and people accessing the project via the Internet. For those in the exhibition itself it acts as an indexing tool for defining which materials are of interest and where these materials can be found, it also extends the real space into the virtual, linking to the web sites of the participating curators.


Re-interpretation: In Sparwasser HQ the archive will be accessible as a normal library, alphabetic and logical, and offer areas for reading publications as well as digital documentations.
Over 10 evening public events the use of the archive will be performed. on each of the evening events two curators/ artist-curators /artists will present their favorite curated projects from the archive.

The talks will take place between September 7. - 27. September. No events during the Art Forum Berlin (September-28. - October 3.) but the archive will be open every day 4-7 and also by appointment: telephone 0179-6705859.
---
Overcoming Past / Deconstruction of Monument
Sarajevo Center for Contemporary Art, Sarajevo
26.05. - 29.05.2005
1. EXHIBITION / PRESENTATIONS
1.1 Cleaning of Symbolic Field: Collective vs. Individual
(In collaboration with National Gallery of B&H, Sarajevo)

Exhibition presents the artistic reflection and the critique of social environment; art that empties, cleans the symbolic field of connotation (new symbolical representations of power); art that is created by a repertory of symbols of parallel, virtual reality; art that poses the question of individual as subject or object of history, that critically questions collective identities and identifications (events and symbols). Participating artists: Nebojsa Seric-Soba, Sarajevo, B&H; Erzen Skololli, Peja, Kosova; Kurt & Plasto, Sarajevo, Alma Suljevic, Sarajevo, Amila Smajovic, Sarajevo; Milica Tomic, Belgrade; Dalibor Martinis, Zagreb.

1.2 Presentations of Monument's ideas, concepts or realizations [In collaboration with National gallery of B&H, Sarajevo]


2. PANEL DISSCUSIONS / LECTURE

2.1 Working Out the Past, Panel Discussion
[In collaboration with Media Center, Sarajevo]
Moderator: Senadin Musabegovic, philosopher and poet, Sarajevo, B&H

1. Historical controversies / New views
2. Today's controversies - what is being talked about, on what we keep silent?
3. Identity / new identities: who and what forms them today? Who are we, what are we?
4. What is being taught at schools, what is not being taught at schools?
Lessons of the past - lessons to be learned
Continuity and discontinuity between two collectivism: Socialism and nationalism
- Overcoming the war trauma in the process of reunifying society
- Ethno - nationalisilstic policy as the result of the transition's logics in destroying socialism.
- Peace agreement as a model for the conservation and the formation of the new political conflict.
- The war as a "tool" / means for rewritng and "overcoming" the past.

2.2 Art as Social Corrective, Panel Discussion
[In collaboration with National Gallery of B&H, Sarajevo]
Moderator: Bojana Pejic, Berlin

- Art as social corrective - art as substitution for reality.
- To whom do the monuments of the past belong today? What to do with them?
- To whom are the monuments being erected today? What to do with them?

2.3 Monuments / New Monuments, lecture
[In collaboration with National Gallery of B&H, Sarajevo]
Lecturer: Bojana Pejic, Berlin


Sathurday, May 28 2005, 10:00 am - 3 pm

CONTEXTUAL ART PRACTICES
Round Table, Art Gallery BiH
Moderator: Bojana Pejic, Berlin

- Art in Context
- Political in public art
- Public art and public memory
- Art as societal correction

Participant:
Antonia Majaca (Zagreb); Alma Suljevic (Sarajevo); Tadej Pogacar (Ljubljana) Branimir Stojanovic (Beograd); Dalibor Martinis (Zagreb); Nebojsa Jovanovic (Sarajevo); Svebor Midzic (Beograd).
---
CODE:RED Bangkok
31 March - 7 April 2005
---
CitySellingCityTelling, Urban Art Stories
CODE:RED Trafficking Topographies
Sparwasser HQ, Berlin
4 May - 18 May 2005
Sparwasser HQ presents:

CODE:RED Bangkok
Trafficking Topographies

Opening May 4. 7 - 11 pm
Exhibition period May 5. - 14. 2005
May 7. 8 pm, Tadej Pogacar in conversation with Ana Lopes,
University of East London

Sparwasser HQ is proud to present Tadej Pogacar's CODE:RED Bangkok, as
the second part of the CitySellingCityTelling project.

CODE:RED (formed in 1999/2000) is a multidisciplinary, collaborative
project, which researches and discusses informal economy models,
self-organisation, global sex work, and global trafficking. CODE:RED
encompasses various forms of joint operation with experts, scientists,
and activist groups, ranging from research, activation, and self-help, to
public manifestations, actions, exhibitions, etc.

When the United States pulled out of Vietnam in the 1970ies, the Thai
sex industry faced a worrying decline in profits. The sex industry, in
partnership with the tourist industry and the government, sought,
consequently, to attract a new type of client. Tourists replaced
military personnel. New bridges for sex tourism were established between Bangkok and towns in Germany, Denmark, and Japan. This builds new mythologies, stereotypes, and stimuli for the urban economy. Trafficking increases.

CODE:RED Bangkok / Trafficking Topographies, conceived for and shown
for the first time at Sparwasser HQ, maps some of the most important routes of international trafficking in Asia, together with a display of documentary material. Furthermore, the exhibition premiers a new board game, >Monapoly<. The game aims to spread knowledge about the transnational trafficking of humans, and focuses on empowering, giving support, and helping the activist groups of urban minorities.

May 7. 8 pm, Tadej Pogacar in discussion with Ana Lopes, University of
East London Ana Lopes has a Masters degree in Anthropology from the University of London. She completed a Ph.D. thesis, in which she reports on her project of establishing a union for sex industry workers. She is an international sex workers' rights activist, who has worked in the industry and is a member of several international sex workers' organisations. She is the Branch President of the Sex Workers GMB Union Branch and a visiting lecturer at the School of Social Sciences, University of East London.

Tadej Pogacar (*1960) is an artist, curator, and artistic director of
the P74 Center and Gallery, based in Ljubljana. He is a founder and
director of the P. A. R. A. S. I. T. E. Museum of Contemporary Art, a virtual, critical formation established in 1990 and P.A.R.A.S.I.T.E. Product Corporation.
He is a theoretician of New parasitism, a model for alternative cultural
and social activity. His most recent projects involve collaboration with
urban social minorities, use of various media, activism, and intervention in
the public domain.

---
MARX UPDATE
Ojo Atomico, Madrid, Spain
17 December 2004 - 31 January 2005
Tadej Pogaar & P.A.R.A.S.I.T.E. Museum are presenting part of the CODE:RED archive on exhibition MARX UPDATE in Ojo Atomico in Madrid. CODE:RED is a long term interdisciplinary and collaborative work on sex work, activism and global trafficking. MARX UPDATE exhibition is focused on documentation of political engaged art and theory. Other participants: Republicart.net, Social Impakt Projekt, RTMark, La Fiambrera Obrera, The Center for Land Use Interpretation, Reclaim the Streets, Critical Art Ensemble, and B+B.
---
Coalesce: With all due intent,
Model Arts and Nilland Gallery, Sligo, Ireland
16 December 2004 - 22 January 2005
Tadej Pogaar & P.A.R.A.S.I.T.E. Museum is participating in the show COALESCE: WITH ALL DUE INTENT with video work Code:Red, Sex Worker, Documents, 2001. COALESCE: WITH ALL DUE INTENT is the working title of an exhibition of on-going artist's works that are brought together to create one coalescent, environment. Coalesceis an exhibition about spatial-cohabitation. Mixing together on-going projects by a selecton of artists, the works are fused together and co-habit the same space as the exhibition takes the form of one and many works at the same time. By exploring and articulating formal and conceptual similarities, COALESCE: WITH ALL DUE INTENT will literally be an overlapping of individual works. With: Ursula Biemann, Phil Collins, Esra Ersen, Jakup Ferri, Jaime Gili, Adla Isanovic, Sejla Kameric, Helmut and Johanna Kandl, Alexander Mir, Isabel Nolan, Marko Raat, Lawrence Weiner and others.
---
Seven Sins: Ljubljana-Moscow,
Moderna galerija / Museum of Modern Art Ljubljana
20 December 2004 - 28 February 2005
The exhibition Seven Sins: Ljubljana - Moscow proposes to explore the various dimensions of contacts between the two cities and to underscore the continuity of cooperation between them and their shared interest in similar aesthetic concepts. Both cities and cultures essentially belong to a common context that has been described as the Eastern European culture. Geographical position, particular traditions and character of both Moscow and Ljubljana, however, indicate how wide the range of issues and contents of such a culture actually is. Since Moscow and Ljubljana both belong to a common cultural (and social) context of Eastern Europe, the exhibition addresses the very issue of this context. What exactly is "Eastern European culture", which are its basic characteristics, its identity? The issue of identity has proved to be a highly controversial one, and the exhibition deliberately deals with its ambiguous nature. It presents "seven sins" that are, supposedly, typical for Eastern Europe, and thus common to Russian and Slovenian artists. These "sins" are Collectivism, Utopism, Masochism, Cynicism, Laziness, Unprofessionalism, and Love for the West. They can be from an outside, presumably Western point of view - understood as weaknesses and imperfections, but they are also "virtues", qualities that Eastern, Slavic countries can contribute to European culture to make it more diverse and rich. For example, utopianism is an antidote to pragmatism, stressing the dimension of hope and future perspectives. Laziness gives artists time to concentrate on themselves and the questions that obsess them. Since eastern artists often are not real "professionals", they can really love what they do, etc. The seven "sins" ("virtues") have, in fact, been strongly present in the cultural production of Eastern Europe in the last decades.

---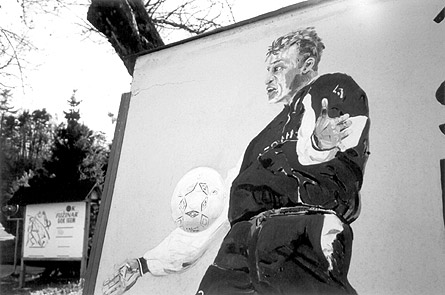 Tales of Two Cities, 2000 - 2004
WHO IF NOT WE SHOULD AT LEAST TRY TO IMAGINE
THE FUTURE OF ALL THIS? episode 2, TIME AND AGAIN
Stedelijk Museum CS, Amsterdam, The Netherlands
23.10.2004 - 30.01.2005
http://www.stedelijk.nl

Curated by: Leontine Coelewij in Geurt Imanse

---
Unbalanced Allocation of Space
MONAPOLY - A world premiere of a new trading game
Galerie fur Zeitgenossischer Kunst, Leipzig
July 1 2004, 8 p.m.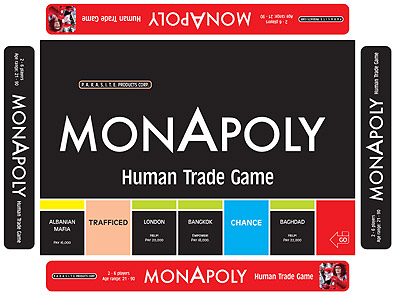 ---
Lampadedromia, Puerto Rico 2004
pr_04.tribute to the messenger.//2004 olympics
EQUIPO TERRESTRE
San Juan 28.5. - 30.5.2004
Rincon 31.5. - 6.6.2004

Curator Tadej Pogaar (Slovenia)
Artist Deidre Hoguet (USA)
Artist Peter Walsh (USA)

People of all ages will be needed to walk or run carrying a ceremonial torch through the streets of Viejo San Juan on Friday night, May 28th and Rincn on Thursday, June 3rd. The torch relay, called "Lampadedromia, Puerto Rico 2004," has been created by artists Tadej Pogaar (Slovenia), Deidre Hoguet (USA) and Peter Walsh (USA) in celebration of pr_04. tribute to the messenger. //2004 olympics, an arts festival sponsored by the Puerto Rican arts group M&M Proyectos.
In the Olympics, athletes run to represent their nations. As part of Equipo Terrestre, participants will run to represent whomever or whatever they wish. Anyone can carry the torch - there are no restrictions on nationality or citizenship, age or background - and artists from around the world will join with Puerto Ricans to carry the torch. Each participant will be awarded a commemorative t-shirt to wear as they carry the torch across Puerto Rico.

Schedule
San Juan, Escuela des Artes Plasticas:
Friday, May 28, 2004, 5:30-6:45pm, Relay Sign-Up;
El Morro: 7pm, Official Torch Lighting; Viejo San Juan:
7pm - 9pm, Torch relay around the city;
Fortaleza 302, Sixth Floor, Viejo San Juan:
9pm, Torch arrives at the gallery opening.
Rincn: Thursday, June 3, 2004:
5pm - 6pm, Relay Sign-Up;
Olympic Villa Entrance at Funeraria Perez:
6pm - 8pm, Torch relay around the town;
Olympic Village, Rincn:
8pm, Torch returns to the Olympic Village
and is used to light a nighttime bonfire.

For more information contact: 787.722.1287 or mmoffice@microjuris.com


---


Trading Places
Pump House Gallery, London
curated by: B+B
Zeigam Azizov, Big Hope, Ursula Biemann, Phil Collins,
Petja Dimitrova, Esra Ersen, Grassroots Collective,
Edina Husanovic, Adla Isanovic, Sejla Kameric, Klub
Zwei, Martin Krenn, Kristina Leko, MAIZ, Tadej Pogacar
& P.A.R.A.S.I.T.E.Museum, Photoinsight, Lisl Ponger,
Marko Raat, Isa Rosenberger, Social Impact, Szuper
Gallery, Wochenklausur, Moira Zoitl.
Windows
Pawel Althamer, Lewis Baltz, Joþe Barsi, Ivan Kozaric,
Tadej Pogacar, Marjetica Potrc
Curated by: Igor Zabel
Gallery Kresija, Ljubljana, Slovenia
14.4.-29.5.2004
MONAPOLY - a new global board game
AIR_port, take OFF 2
Into the city. Towards the borders
Forum Stadtpark, Graz
20.11.2003 - 7.1.2004

CODE:RED Sector Zagreb
Gallery NOVA, Zagreb
24.10. - 21.11. 2003
> more

Autonomous Territory Mexico City
Public Action
June 28
EX TERESA ARTE ACTUAL
Mexico City
June 27 - July 14 2003
> more

Constructed City II.
FORM - SPECIFIC
Museum of Modern Art, Ljubljana
May 31 - July 31 2003
25th International Biennial
of Graphic Arts, Ljubljana
June 10 - September 28 2003

---
A PERFECT PLACE
B+B AT HOME WITH THE P.A.R.A.S.I.T.E. MUSEUM OF CONTEMPORARY ART
Sunday 25 May 16002000h
Location: Austrian Cultural Forum, 28 Rutland Gate, London SW7 1PQ
Underground: Knightsbridge, South Kensington
> more

URBAN ACTION
ACF London
B+B at Home
28 Rutland Gate, London SW 71PQ
May 9 - May 29 2003

---
CODE:RED, Sex Worker 2001
The 3rd San Francisco
Sex Worker Film and Video Festival
May 23 at 10 p.m.
San Francisco, USA
www.bayswan.org/swfest.html

---

CODE:RED Sector Graz
Presentation and Discussion
Tadej Pogacar, P.A.R.A.S.I.T.E. Museum, Ljubljana
Bandana Pattanaik, Global Alliance Agains Traffic in
Women (GAATW), Bangkok
April 8th, 2003 7 p.m.
Forum Stadtpark Graz,Stadpark 1,Graz

CODE:RED Sector Graz
March - May 2003
Forum Stadtpark, Graz
April 8th,7 p.m.

CODE:RED Sector Graz is an interdisciplinary project
composed of several segments: research, documentation,
mapping, social interaction, and lectures. Project
CODE:RED Sector Graz ia a part of the AIR_port
residential program of the Forum Stadtpark Graz and as
a part of the project Graz 2003 Culture Capital of
Europe.
> more


---
CODE:RED Italy
Lucciole in Lotta.Empowerment di una minoranza
March 8 - March 23 2003
Fundazione Ado Furlan, Pordenone, Italy


---
ARCO FORUM
The Post- Museum
Part I: CULTURAL TOURISM
February 18 2003
4 - 6pm
Parque Ferial Juan Carlos I
Madrid


---
URBAN UTOPIAS, URBAN REALITIES
Constructed City
February 11 - February 27 2003
City Gallery Nova Gorica, Slovenia

images >


---
RECONSTRUCTIONS - Documents II
January 16 - January 23 2002
Celje Gallery of Contemporary Arts, Celje, Slovenia
The second of two exhibitions comprehensively
presenting the activities (public actions,
interventions and documents) of the P.A.R.A.S.I.T.E.
Museum of Contemporary Art.
---
Olympia from Moderna galerija
November 15 2002 - January 5 2003
Museum of Modern Art, Ljubljana
www.mg-lj.si

images >
---
concrete STREAM
My Body is My Business
Thursday, November 7
Online: 4 - 5pm EST (21:00 / 8pm GMT)
University of Maryland Baltimore
Curated by Tadej Pogacar
http://concretestream.umbc.edu

Featuring selected artists whose works researches and explores the topic of sex and sex work in a form of self eroticism, economy and political activism.

---
ARTEAST Collection 2000+
September 6 - September 30 2002
Cifte Amam, Art Gallery, Skopje, Macedonia
www.2000p.org


---
OSTENSIV
June 28 - August 21 2002
Humboldt University, Berlin
www.ostensiv.de

images >

---
LINE.AT
May 29 - June 22 2002
Knstlerhaus Klagenfurt
http://line.at.mur.at

---
CODE:RED USA, Operative Phase
A Communication Research Base (CRB),
was set on April 23 2002 at inner location R-S 351 2A in NYC.

Actions CODE:RED USA, Intervention, April 27
Ridge Street, Houston Street, Jackson Street
Intervention, April 29, 30
Second Ave, Broadway, Rivington Street

Street Performance, May 1
Union Square, Times Square

Utimate Sex Worker Conspiracy Soire:
Conference and Party, May 5
True (28 East 23rd Street at Madison Avenue)

A Memorial Walk for Unknown Sex Worker, May 6
Meat Factory district, 14 Ave., 10th Street

Performance and conversation, May 7
Richard Gabri (L.A.) and Tadej Pogacar (Slovenia)
16 Beaver Street
www.16beavergroup.org

Presentation and discussion, May 8
Tadej Pogacar, Scarlot Harlot
APEXART, 291 Church street
www.apexart.org